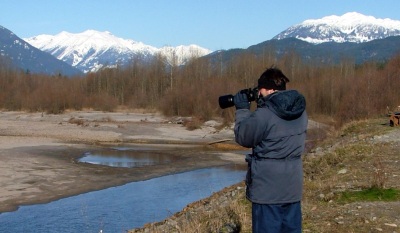 In case you wondering who I am, here's a little information about myself:
I am a Canadian, and very proudly so. My dad was a Canadian diplomat and a result I have lived in a number of countries including Brazil (where I was born), South Africa, (West) Germany, Iraq and of course Canada. Living all over was a great experience, and I have always loved traveling.
So whats my connection to photography? Well, as a kid I was always the one taking pictures on family vacations as well as 8mm and Super 8 movies. As a graduate student I did work in three-dimensional optics and image processing and during my hi-tech career have occasionally done related work incuding working with the Space Shuttle's TV cameras, and developing software to process images from high-end confocal laser microscopes.
Photography is one of my hobbies, and you can see some of my favorite photographs on this website. My main interest is nature, although sometimes other subjects happen to strike my fancy.
I hope you enjoy the photos I have put on this website. If you like them, send me an email, or better yet, create a link to my page!
My email address (shown here in a jpeg file to help prevent spam) is:


- - - - - - - - - - - - - - - - - - - - - - - - - - - - - - - - - - - - - - - - - - - - - - - - - - - - - - - - - - - - - - - - - - - - - - - - - - - - - - - - - - - - - - - - - - - - - - - - - - - - - - - - - - - - - - - - - - - - - - - - - - -